About Us
+ General
+ Health
The Church of Uganda
After its founding by the Church Missionary Society, the Church grew through the evangelization of Africans by Africans. The first Ugandan clergy were ordained in 1893 and the Church of Uganda, Rwanda, and Burundi became in independent Province in 1961. The history of the Church in Uganda has been marked by civil strife and martyrdom. In May 1980, the new Province of Burundi, Rwanda and Zaire was inaugurated; the Province of Uganda has grown since then from seventeen to twenty-seven dioceses.
The Diocese of Kigezi is one of those dioceses, marked 26th in the map below. The Church in the Diocese of Kigezi is built on the foundation of Jesus Christ and has been strengthened by the revival movement.
The Diocese is administered according to a Constitution promulgated in 1967 and amended in 1987 and 1992.
The Church of Uganda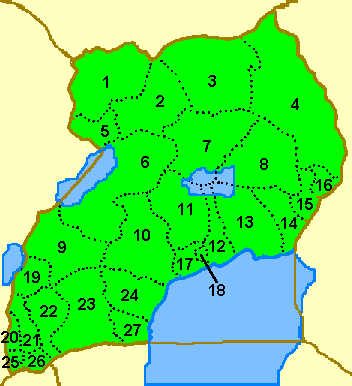 Map from Anglican Communion website
+ Health
+ Water
+ Economic
+ Youth
+ Women
Theological Education by Extension Programme (TEE)